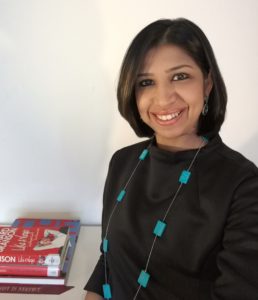 "In 2003, I walked into the office of a senior leader at one of India's leading Information Technology organisations in the city of Bangalore. I was a young leadership and management development facilitator aiming for a big job.
Back then, gender diversity and equality weren't popular terms, and men weren't being called upon to support women as they are now. Plus, I didn't know the importance of a male ally in a male dominated world for a woman.
I found myself sitting in front of an unassuming, calm and approachable person. He sat behind a wooden desk and with team photographs and trophies lined on shelves all across a wall. He smiled reassuringly at me, and I instantly felt comfortable.
That was Selvan; head of a large training team that undertook a range of people development programs and projects for our global organisation. At the end of my interview, he walked down a set of stairs with me, asked if I wanted lunch and then led me to the nearest on-campus café. He even made a menu suggestion! Selvan then explained and wrote out directions to get to my final HR interview. This gesture of thoughtfulness and care has always stayed with me as one of his great leadership qualities.
I got selected and stayed on for six years with the organisation, and Selvan remained the head of our team and my skip level manager through that time. I can confidently say that his mentorship steered my career in a far better direction than if I had met a leader who didn't focus on crafting a young woman's career and providing her support and guidance through those crucial years.
Selvan shared his intention to be a mentor and sponsor right from the start. We would often meet in our pantry, and instead of nodding and moving on with his coffee, he always had a question to ask. Through these frequent and informal interactions I grew in my confidence to be myself and not try to fit in.
While he was my manager's manager, he never talked down, patronised or brushed away a concern, instead, he was a great listener. Selvan truly had an open door policy. He engaged in a way that I knew I could walk in and talk to him. This helped me understand how things worked, which in the natural course of male dominated corporate life, rarely happens for a young woman starting out.
Selvan always pushed me to think bigger and not hesitate to share brave ideas about how I saw my career growing. I now understand the significance of those conversations much better.
Another great leadership value I saw exemplified in Selvan was his sense of fairness. He made sure I got my due credit even when I would be the most junior person in a task force to have contributed. Instead of ignoring my share, he paid close attention to the quality of my work and I always knew how I was doing and what I could do better. To have merit, initiative and competence rewarded in this manner proved crucial for my future career.
I hope this story helps someone identify if they have a male ally in their lives. Selvan has set a high bar for me ever since on how I engage with men. I've used his example several times as I've taught leadership skills across levels over the years."
– Sonali D'silva, Founder and Principal Consultant, Equality Consulting
Adelaide, Australia
Sonali D'silva is author of Corporate Nirvana and is in the process of writing her second book '25 Practices of Inclusive Leaders'. Sonali has spent two decades of her career in leadership and management development; her current work involves helping organisations build Inclusive Leaders, expand the influence of women leaders, and involve men in Gender Equality efforts.