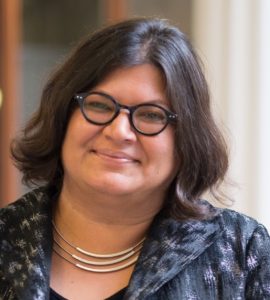 "As CEO of the Women's Foundation of California, I am charged with overseeing the Foundation's strategic direction and making sure we have the adequate resources to do so. Our focus is on building community-based power through investing ineffective social justice organizations, training grassroots community leaders to be effective policy advocates and connecting key partners to advance gender, racial, and economic equity.
When I started as CEO in September 2014, it became clear very quickly that the Foundation had significant financial challenges—we were carrying a structural deficit going back many years which was taking its toll on the organization and our staff. I knew that if we were going to be successful and honor our history to support our constituencies, we needed to refocus and restructure in order to turn things around. I also felt strongly that if we want to achieve gender equity we have to engage men in our work.
At the time we had one man on our Board and I worked with the Board to bring on a few more—one of them is Will Guerra.
Will is a Managing Program Director and Associate Principal at SYPartners, a consulting firm that works with organizations to create massive positive impact in business and society. I knew Will socially and one evening when I was describing my work, Will's eyes lit up and he told me about how committed he was to gender equity. His story, like many of us, begins with our mothers.
Will told me about how much he looked up to his mother, a single mom, who worked multiple jobs to give her kids the best opportunities she could. Her example led Will to identify as a feminist and he wanted to use his skills in marketing and program strategy to advance social good including gender equity. I asked him to consider joining our Board of Directors, which he did in 2016.
Since then, Will has brought his expertise in supporting me to strengthen the Foundation. His business and marketing background helped us to refocus our programs on our core strengths and began to transform the organization. Two years later, we've never been healthier. Through refocusing and restructuring the organization we retired the structural deficit and now have a healthy surplus just in time to celebrate our 40th anniversary in 2019. And Will has been there every step of the way, supporting me, pushing me beyond my comfort zone, and giving his time, talent, and treasure to the Foundation. You couldn't ask for a better feminist man as an ally.
Will is heading up our rebranding efforts and is participating on the Board's 40th Anniversary Committee which has a bold goal which we are calling the 40/40/40 campaign which celebrates our past and present in order to secure the future we all need and want: we're celebrating our 40-year history by raising $40 million to resource the next 40 years.
And Will's leadership on the campaign, as a feminist man committed to gender equity is an inspiration for me and I hope for other men who will step up to support women. Because when women succeed we all succeed."
– Surina Khan, CEO, The Women's Foundation of California
San Francisco, CA
Surina Khan is the Chief Executive Officer of the Women's Foundation of California, a statewide publicly supported foundation dedicated to achieving gender, racial and economic justice.