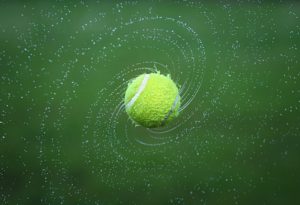 "The Corner of the Court" as a metaphor was first shared in Rachana Bhide's keynote address at the 2016 Women in Sports and Events (WISE) Women of Inspiration Awards in Los Angeles.  Men and women executives across the sports industry attended, including the honorees from ESPN, FOX Sports and LA84 Foundation.
Rachana's keynote and research were inspired by a true story (later to become the first story shared in the project) of Rachana's own experience being a female athlete on a tennis team of all boys; in this story, she recalled how her older brother — her coach —  was visibly encouraging her from the corner of the tennis court, always pushing her to play her best, even when competing against boys who were older, taller and physically stronger.
In design thinking, the use of imagery and metaphors helps us creatively address a business challenge or opportunity, by offering a new perspective through a familiar scenario.
The image of a tennis court to illustrate male/female dynamics in workplace diversity is a powerful one, specifically reflecting a design-based insight around communicating to readers about women's role in such conversations:  That is, the female voice for diversity holds the central theme. The female is the athlete, the competitor, the protagonist of each story. She is out on the "court," sweating, deciding her next move, wrestling with emotions and physical exhaustion and all that comes with playing her hardest and smartest for each point – while her male ally or coach, is fully active and present, in the corner.
There's a power in using design and metaphors to suggest an experience: It allows for mental freedom to take the challenge at hand, exploring the topic where we choose.  For example, as the male ally considers his role on the imagined tennis court:  In which corner is he standing (across from the female athlete, or watching from a back corner)? As she switches sides to serve, what is his new vantage point of her?  How is his full presence on the court — though not as an active competitor — making him feel?
All of these complex considerations are wholly permissible and non-threatening to examine and discuss through our project, for we have chosen a metaphor and story-based approach to which many sides (both men and women, in their metaphoric roles as athlete, coach, fan, umpire, spectator) can relate.