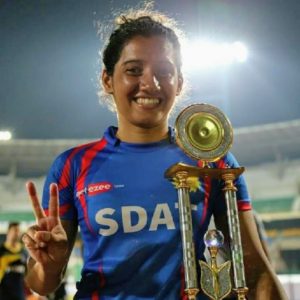 Only 1% of Indian girls have played any kind of organized sport in their lives.
This story, an excerpt from Wonder Girls, highlights Neha's journey to becoming the captain of the Indian rugby team.
Along the way she found a visionary coach who embodies the values of the sport and taught her how to play the game.
"During my stint in athletics, I accidentally got introduced to rugby via a local club in Pune. Coach Surhud Khare from the Khare Football and Rugby Academy, Pune, visited our school and invited us to attend the women's rugby match that he was organizing over the weekend. One of my friends and I went to watch the match, just for fun. We enjoyed the game so much that we wanted to give it a try. Surhud encouraged us to attend a practice session. He had grown up in Africa and had played rugby all through his childhood. When he came back to India he made a commitment to introduce and grow rugby in India.
Surhud is the reason why people play rugby in Pune today. He introduced the local football players to rugby, and they passionately took to the new sport. Surhud later confessed to me that he didn't think I had it in me to be a rugby player. 'You are so small. I never thought you could play this sport. I changed my mind after I saw you run. Any doubts I had were wiped out after I saw you tackle your opponents.'
That one practice session changed my life forever. I had played nearly every sport there was, but had never enjoyed any of them as much as I did rugby. There was no looking back after that evening. I was fifteen at the time. Since then I have been showing up for my rugby practice session from 6 a.m. to 8 a.m. every single day. I played rugby in the scorching heat and during the harsh monsoon. I made no excuses. The only days I skip are when I am out of Pune for a tournament.
What draws me to rugby are the core values the sport inculcates in its players. I can tell you that my life after rugby has been very different from my life before it. The sport of rugby revolves around solidarity, respect, integrity, discipline and fairness. Coach Surhud taught me how to inculcate these core values in my game. I have seen men who are seven feet tall and weighing over 100kg play the sport like beasts, but off the field they are true gentlemen.
My commitment to and consistency with rugby paid off . In early 2016, I was made captain of the Indian rugby team. I cried when I heard the news. I called up my father, crying, and he thought I was in trouble. He began to freak out. 'Beta, kya hua? Kya hua?' he kept asking.
When I was finally able to stop crying I told him I had been made captain of the Indian rugby team and didn't know what to do.
My father burst out laughing. He told me I fully deserved the title.
The future of rugby is bright. Today rugby is the fastest growing sport in India, and that is because of passionate leaders like Suhrud who go from school to school introducing rugby to young people. It takes an immense amount of passion to show up every morning for ten years at 6 a.m. to coach beginners. Players like me owe everything to coaches like him."
– Neha Pardeshi, Captain, Indian Women's National Rugby Team
Shared in partnership with Wonder Girls: Success Stories of Millenials who Fought to Do It Their Way (Juggernaut Books, Varsha Adusumilli)
Don't miss Neha's full story in the print book, now out in India and selected parts of the U.S.
You can also access the book digitally here on Juggernaut.