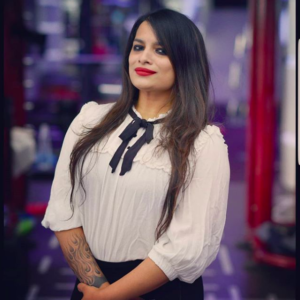 Nilparna Sen is revolutionizing the mindset around fitness in India, with a focus on helping Indian women become stronger and healthier. Nilparna was an MBA-bound woman who received a call from a male ally to take a leap of faith into a nontraditional career. Now, she's a bold leader who is innovating the country's fitness industry.
This excerpt is shared in partnership with the book Wonder Girls: Success Stories of Millenials who Fought to Do It Their Way (published by Juggernaut Books, written by Varsha Adusumilli).
"I signed up for a fitness certification course in Mumbai. On weekdays I would study in my hometown of Surat for the CAT (Common Admission Test examination for an MBA qualification), and every weekend I would take the train to Mumbai to attend the fitness classes. My entire day was spent researching nutrition and body transformation. I would endlessly watch YouTube videos and train by myself.
Midway through the fitness course in Mumbai I had a revelation. I realized that the fitness industry in India was still in its nascent stage and that the opportunities it offered were limitless. There was a huge knowledge gap in the industry too. It was very difficult to find a good coach who could also communicate well with customers. As my interest in the fitness sector deepened, I started building connections in the industry and began to nurture them. I wanted to give back to this industry by being part of it, but I wasn't 100 percent sure about the choice.
A month before my CAT exam, I got a call from revered celebrity fitness guru Kaizzad Capadia, founder of the K11 Fitness Academy. He had seen my workout and fitness posts on Instagram and decided to reach out to me.
Kaizzad told me about the various trends in the fitness world and what was lacking in India. He encouraged me to pursue fitness as a full-time career. The hour-long conversation with him left me overwhelmed and on top of the world. It made me take a leap of faith, and was just the nudge I had needed to plunge right in.
As my conviction deepened I decided to have the difficult conversation with my father. That I wanted to be a fitness trainer would be unacceptable. I came from a Bengali family of highly educated people. Most of my uncles and aunts are PhDs. Finally, I told him that he needed to trust my decision, that I had enough marks to get into a decent MBA program, but what I really wanted was to pursue fitness because I had a deep calling for the industry. I was sure he wouldn't understand my choice and that he would say no.
And so I was shocked when he said, 'If you make this choice then become the very best at it.'
Early in my career, I was keen to train women because physical strength as a value is never associated with us. Society had laid down the rules for this a long time ago, and I, the rule-breaker, wanted to change things. I wanted to help women get stronger. The crème de la crème of Surat began to train with me, and they wanted to show off their progress in their social circles, which was a good thing for me. I leveraged that aspect and worked hard on them. As their bodies began to transform, my popularity in Surat grew. My clients eventually let go of the idea of training to be skinny; they began training to be strong.
In 2017, I was promoted to CEO of Surat's largest gym! Who would have thought my journey would turn out like this? I've been working hard ever since I joined the fitness industry, but now I must exhaust every skill I have and learn new ones to truly succeed. Being a trainer is like being an artist who shapes people, but being a CEO comes with its own conflicts. As a CEO, I have to prioritize, and often many of these priorities are in conflict with each other. Now I have to worry about the company's financial health, think about cost-cutting and growing profits on the balance sheet while also keeping the customer's best interests in mind.
My dream is to open multiple branches of KG Fitness worldwide and also improve the fitness industry in India. Less than 1 percent of Indians subscribe to a gym membership. I want that number to go up to 50 percent.
When I was younger, my father worried constantly about how I didn't care enough about my career. Now he worries about how obsessed I have become with it! And I love the fact that I've surprised him."
– Nilparna Sen, CEO and Fitness Coach, Surat, India

Don't miss Nilparna's full story of her personal transformation and career journey in Wonder Girls, now out in India and selected parts of the U.S. You can also access the book digitally here on Juggernaut.

We are delighted to share this story in partnership with the book's author, Varsha Adusumilli, and publisher, Juggernaut. Read the partnership announcement.